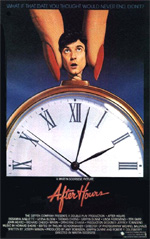 Un film di Martin Scorsese. Con Rosanna Arquette, Verna Bloom, Griffin Dunne, Will Patton. Titolo originale
After Hours
. Grottesco, durata 97 min. - USA 1985.
Esperienze decisamente fuori dall'ordinario per Paul Hackett, introverso e ordinatissimo tecnico di computer, capitato per caso nel quartiere newyorchese di Soho. M. Scorsese torna agli inferni urbani di Mean Streets e di Taxi Driver, ma con meno astio e più ironia. È l'avventura, quasi hitchcockiana e un po' kafkiana, di un personaggio catapultato in un mondo non suo. Tutto da godere. Una delle grandi commedie nere degli anni '80.

Cercasi Susan disperatamente

Un film di Susan Seidelman. Con Madonna, Rosanna Arquette, Robert Joy, Will Patton 

Titolo originale
Desperately Seeking Susan
. Commedia, durata 104 min. - USA 1985.
Un misterioso J. cerca Susan pubblicando annunci su un quotidiano. Roberta, moglie annoiata di un venditore di vasche da bagno, li legge e decide di scoprire chi sono i due. Il merito di S. Seidelman è quello di aver fatto un film scorrevole basato sullo scambio di persone, con due donne come protagoniste, senza sottintesi omoerotici né risvolti femministi, inserite in ambienti urbani memorabili.

"
The film captures the feel of the underground Bohemian/New Wave scene of the early to mid-1980s New York City, a scene that in real life helped Madonna get her big break in the music business. Madonna recorded a song for the movie, titled "Desperately Seeking Susan". It ended up not being used in the film, and a demo she just finished at the time called "Into the Groove" was used instead. The demo version can only be heard in the movie. The song was a huge commercial success but was not included on the film's soundtrack, despite being heard in the film. The music video for "Into the Groove" consists of clips from the film compiled by Doug Dowdle of Parallax Productions".

.